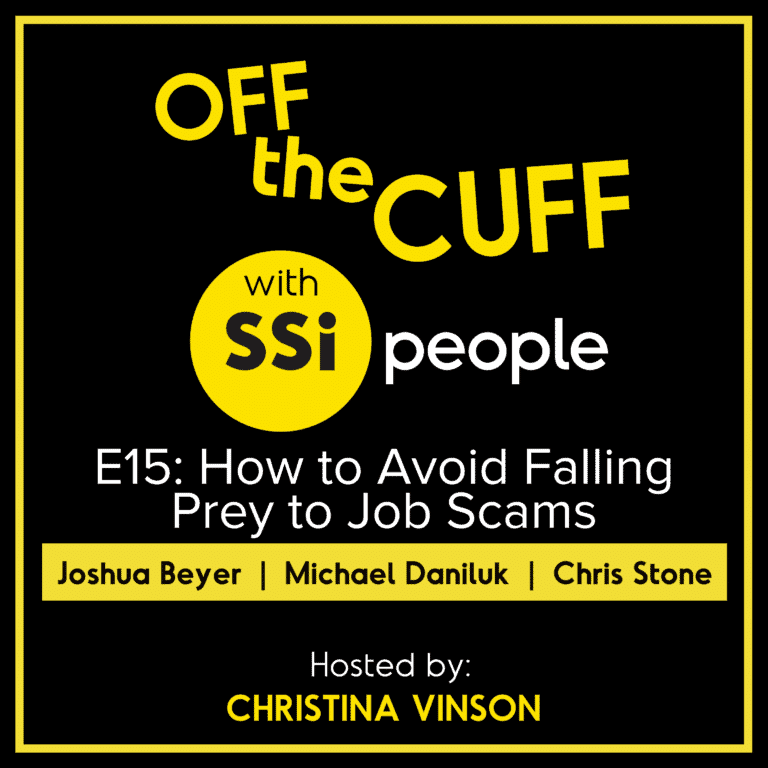 How to Avoid Falling Prey to Job Scams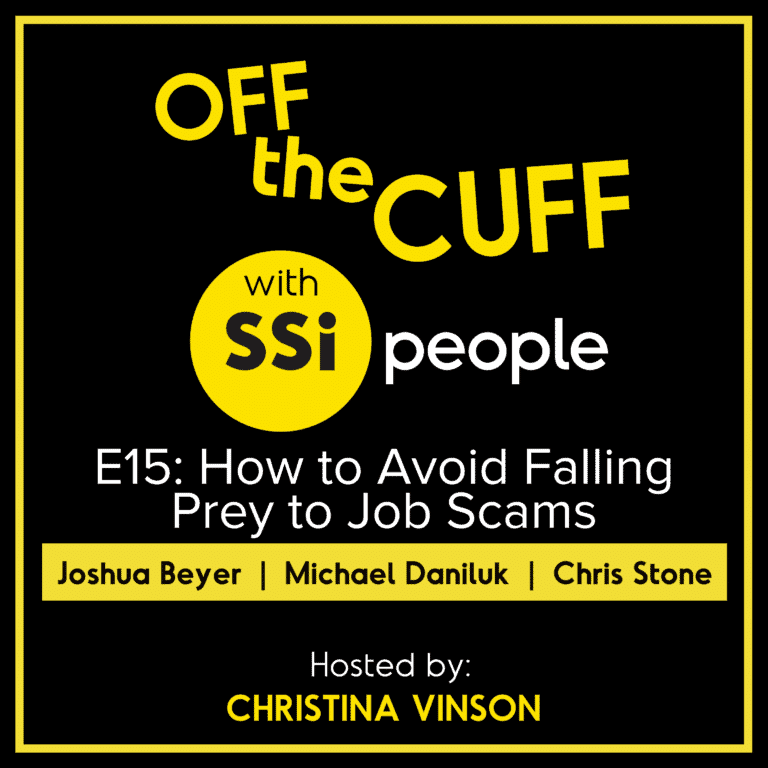 Off The Cuff is back in 2023 for a round table talk with three members of our incredible executive team here at SSi People: Joshua Beyer, VP of Client Engagement, Pharmaceuticals & Life Sciences, Michael Daniluk; VP of Client Engagement, Finance, Insurance & Technology and Chris Stone; VP of Client Engagement, Retail & Engineering. This all-star team of experts is here to provide listeners with an inside look at this trend of job scams, identity theft, and fraud.
This episode is a natural follow-up to our last podcast on fraudulent job candidates and includes a bounty of tips, tricks, and red flags to be on the lookout for when hunting for your next job or freelance gig. Due to the dramatic rise of remote work coupled with accelerated changes in technology, predatory job scams have been steadily rising over the past few years. In this episode you will learn from our team on how to identify these scams and ways to protect yourself or your company from falling prey to this growing trend.
Christina and the guys share their observations on the recurring patterns and techniques used by scammers to gather job hunters personal information and defraud the public. You will learn how to keep yourself safe when job hunting and how to implement best practice for your business when searching for new candidates.
Tips Include:
Search the company website directly and use links on the websites to apply for jobs. Many times links on legitimate job boards lead to cloned/false websites. 

Use LinkedIn to gather intel on the company's job page to see if the job is actually being advertised.

Check to see if you have any connections listed on LinkedIn that work at the company and verify the job opening with them.

Google Search the company with the word "scam" included to find fraudulent activity.

Don't pay for job offers. Legitimate companies won't ask you to pay for job offers or any other offers related to the job. 

Staffing firms may require the last four numbers of your social security identification, but a legitimate staffing company will explain why it's needed and won't pressure you for the information. If in doubt, reach out to the company to verify this practice. 

Never provide credit card or bank account information. 

Legitimate companies always provide you with technology tools and never require you to purchase them up front with your own money.

Be suspicious of offers that are too good to be true. If a job offer seems too good to be true, it probably is. Be suspicious of offers that promise high pay with minimal experience or qualifications.

Trust your gut!
Connect with Our Guests:
Joshua Beyer: https://www.linkedin.com/in/joshua-beyer-13aab36/
Michael Daniluk: https://www.linkedin.com/in/michaeldaniluk/
Chris Stone: https://www.linkedin.com/in/christopher-stone-603a675b/
Connect with SSi People:
LinkedIn: https://www.linkedin.com/company/ssipeople/
Facebook: https://www.facebook.com/SSIpeople
Instagram: https://www.instagram.com/ssipeople/
SSi People's Job Board – https://ssipeople.com/careers/#/