Career Resources at your fingertips
Our goal at SSi People is to make your stay with us as consultants as seamless and turnkey as possible. We understand—and appreciate—that you are incredibly focused on your new role so we want to ensure that the other important things that matter to you are easily accessible.

Below you can access tools and resources that are part of your consultant package with SSi People. Of course, your People Care Specialist is always on hand to help with any questions you may have.
Frequently Asked Questions
SSi People uses an online enrollment system – Employee Navigator. Eligible employees will get an invitation email approximately 2 weeks before the month in which they are eligible.
Employees are eligible for health, dental and vision coverage on the first of the month following 60 days of employment. Employees are eligible to participate in the 401k on the first of the first payroll of the month following 90 days of employment.
No, SSi People manages health, dental, vision, and 401k plans only. ADP TotalSource offers elective payroll deduction benefits and coverage like Flexible Spending Accounts and disability, which SSi People has no control of. Please note these benefits operate under ADP's plan year (Jun – May), which is different from the SSi People plan year (January – December).
SSi People pays employees biweekly on Wednesdays ten days after the pay period ends. If Wednesday falls on January 1st, 4th of July, or December 25th payday will be the day prior to the holiday.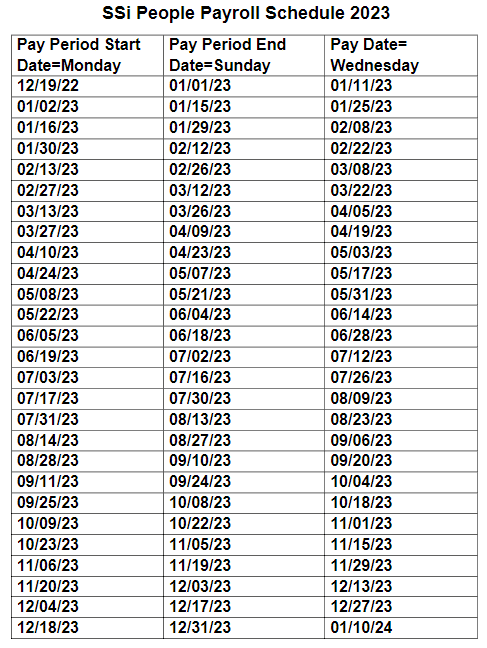 Log in to your ADP workforce now account at https://workforcenow.adp.com. Please contact your People Care Specialist for initial setup instructions or refer to your onboarding paperwork. 
No, to change your address please contact your People Care Specialist.
No, to change your W-4 withholdings please contact your People Care Specialist.
Once your onboarding is completed you will be contacted by the Account Manager with start date details.
Please reach out to your People Care Specialist or email us at SSiPeopleHelp@ssipeople.com so we can arrangement for safe return of your equipment.
Most final paychecks will be processed in accordance with the payroll schedule, but depending in which state you live and why the separation occurred the timing may be expedited.
If you were enrolled in SSi People benefits you will have benefits till the end of the month in which separation occurred. Please check your mail for info on COBRA benefits from iSolved.