Use data that explores geographic locations with diverse populations to open new talent pools for tech talent
While organizations continue to shape work policies defining their remote work position, some points to consider include the advantage to attracting and hiring diverse tech talent with the potential for a lower cost of resources, and an opportunity to fish within an expanded talent pool.  That expanded talent pool may help organizations identify talent faster, or help organizations find the right candidate for hard-to-fill roles.  And, it may also help improve diversity hiring.  As companies weigh the pros and cons of remote work, and we recognize that many organizations are focusing on building a more traditional, 'return to the office' approach, this article's intention is not to suggest one option is better than the other, but only to explore diversity hiring ideas related to remote and even hybrid work engagements.
As it relates to a lower cost of resources, consider the following example to hire diverse tech talent:
According to the Bureau of Labor and Statistics, the annual mean salary for an Information Security Analyst in New York State is $138,730.  That same position has an annual mean salary of $85,860 in Vermont.  If you are willing to hire even further from an NYC headquarters address, Mississippi based Information Security Analysts earn a mean salary of $85,460, and Wyoming: $87,630.  Several other states also offer candidates, with similar education and experience well below $100,000.  And while a $50,000 savings on one hire is certainly significant, what if you are hiring 10 Information Security Analysts?  Or 50?  How may a $2,500,000 savings against your budget impact your department, your project, or even your bonus potential?  Maybe as relevant a question, is your staffing firm partner presenting you with this data when you are looking to make a hire?
Reduce Time-to-Fill and Potential Turnover
The advantages of hiring from a broader talent pool are clear as it relates to speed of hire, and finding the right candidate as well.  Did you know that there are about 1.5 million software developers in the United States?  And, combined, that less than 25% of them are based in New York and California?  As a Pennsylvania company, for example, you can expand your talent pool by more than 90% if you searched for your next software developer on a national level, beyond the borders of Pennsylvania.  That math can be applied to hiring diverse tech talent as well… Let's explore.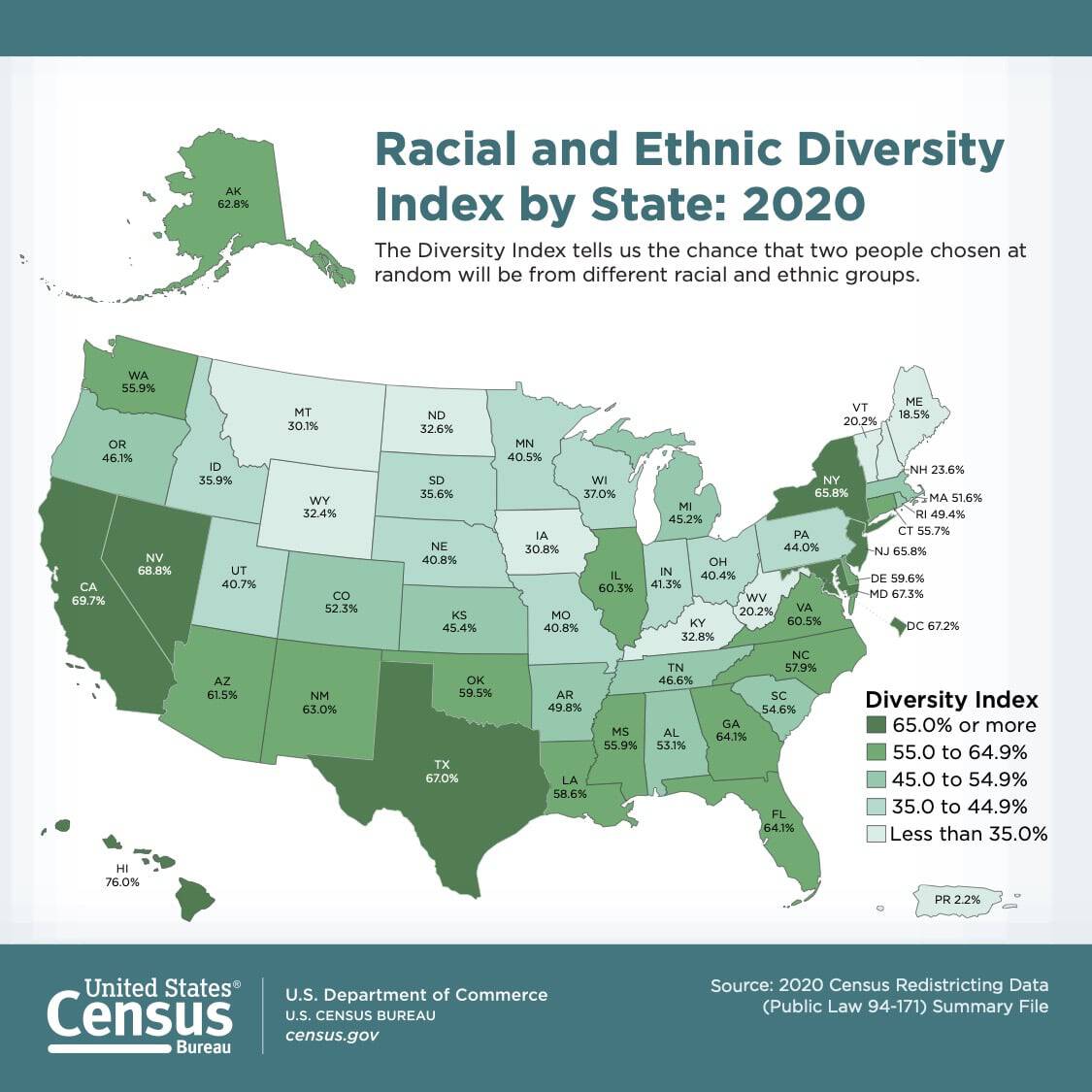 The US Census Racial and Ethnic Diversity Index provides a percentage chance that two people chosen at random within a particular state will be from different racial and ethnic groups.
Our most diverse states/locations include:
CA:       69.7%
NV:      68.8%
MD:     67.3%
D.C.:     67.2%
TX:       67.0%
NY:       65.8%
NJ:       65.8%
Other examples with percentages higher than 50 include:
FL:        64.1%
GA:      64.1%
NM:     63.0%
AZ:       61.5%
VA:       60.5%
DE:       59.6%
OK:      59.5%
LA:       58.6%
NC:      57.9%
WA      55.9%
MS:      55.9%
CT:       55.7%
Armed with this information, let's look back at our initial Information Security Analyst role.
According to the data, while California has the highest number of diverse candidates qualified as Information Security Analysts, one could improve their chances of hiring a diverse tech talent, and save as much as $25,000 per year if they looked for candidates in Florida and Georgia.  Adding Minnesota, Wisconsin, Michigan and Ohio doubles the diverse talent pool and reduces costs as much as $35,000 per year.
Work with an IT staffing partner that provides deep data analysis of available tech talent
The purpose of this article isn't to suggest that remote work is preferred or more beneficial than traditional office work, but only to demonstrate how analyzing the available data can help align an organizations talent needs with the consultants that may be available to them.  Ultimately, we all want to find the right candidate, at the right place and time, and at the right cost.
If that goal sounds familiar to you, contact SSi People's IT recruiting and staffing experts to provide a national, regional, or even metro-based analysis that explores diverse populations for finding your next hire.