As the countdown to 2023 begins, given today's current tech job market, the usual predictions for what lies ahead are not as clear-cut as we expect. Over the course of the year, we have reviewed the effects of inflation on tech staffing, explored the aftermath of the Great Resignation, and contemplated whether the tech hiring slowdown was the result of a looming recession or the unavailability of talent. It's difficult to reach a consensus on the latter because of contrarian evidence presented each day; in one update, we follow a round-up of big tech layoffs or downsizing announcements; in another, experts show us the lowest unemployment rate in IT employment to date, with a record number of open tech jobs waiting to be filled.
From where we sit as a tech staffing firm, we can attest that the lack of available talent is a pressing challenge as demand continues to skyrocket for positions, particularly hard-to-fill specialized roles. As we dive into the past year's data, both through our own data points and the industry at large, we've identified key areas to focus on for tech jobs in 2023 and beyond.
What's the outlook – Is the Tech Job Market Slowing Down?
Experts note that tech employment growth is slowing, but not because of a lack of demand. Lack of available talent and record unemployment are stripping supply. Growth is still on the horizon for the end of the year, as the latest report from CompTIA notes that year-to-date tech employment is poised to exceed 2021 by 22%.
Statistics to note:
There have been 3.1million tech job postings through July. In 2021, there were 3.6million tech job postings total

In September alone, there were 302,400 tech job postings online

BLS notes that computer and information technology occupations are still projected to grow 15 percent from 2021 to 2031
Information Security Analyst jobs are poised to grow 35% through 2030. The Bureau estimates that the job profile will feature about 16,300 openings each year until 2030
Software developer jobs will increase by 25% through 2030.
Demand for data scientists will increase by 30% over the next decade; it is predicted that the growth for this field will be more significant than most others through 2029.
The projected future growth rate for all web developers and digital designers is 23% through 2031, with approximately 21,800 openings each year.
Database Administrator positions is 11% growth through 2026.
Computer Systems Analyst positions is 9%  growth through 2026.
Who's Being Hired?
There are lists of top tech jobs by role reported throughout the industry, varying depending on the source. Through multiple sources of research, below is a summary of the top job titles based on available data:
Industry YTD tech job hiring according to ITProToday:
Software developer/engineer (924,000 jobs posted 2022 year to date (YTD), a 28% increase over 2021.
IT support specialist (228,842 jobs, up 52,558 YoY)
IT project manager, with nearly 200,000 jobs posted, up from 2021 by over 40,000
Research also shows notable hiring activity for Data scientists, IT security roles, Cloud-based roles, Mobile Application Developers, and Systems/Network Engineers.
Part of the challenge in determining top tech jobs by title is that title naming conventions often vary. Most jobs, however, will list primary skill requirements that narrow down the tech demand by the job group that we are seeing in the market.
At SSi People, our YTD data shows that top tech jobs in demand by skill include:
Project and Product Management

Jobs with these primary skills and experience range from project coordinator for Business Analytics to Infrastructure Builds to SCRUM masters

Biotech/R&D/Scientist

Included Associate Scientists, Clinical App Specialists, Quality Control

Software Design Engineer, Web, Application Developer

All levels of software developers, Java, .net, Full-Stack, followed by Software Testing Engineers as well

Engineering

Manufacturing, Technical, Electrical
Other notable roles in high demand include:
IT Security/Network/System Admin
Quality Analysts and Engineers
What are the hard-to-fill roles?
When we think of hard-to-fill roles, we often imagine a very specific, specialized skill set that is rare in the field. Similar to specialized surgeons in the medical field, IT professionals are limited in numbers, especially those who specialize in advanced emerging technologies.
For tech roles, however, some of the roles that remain hard to fill are actually common; but the supply has run dry because everyone needs them, and they are no longer on the market. While technical skills are the primary requirement for the role, IT leaders are broadening their scope to include soft skills and business know-how from candidates to support their digital initiatives. CIO.com contributors suggest an increased need for non-tech skills for the tech professional with a focus on critical thinking, problem-solving, collaboration, and business acumen that calls for IT to operate across an enterprise, spearheading organizational transformations.
The most recent State of the CIO survey notes that some of the hardest-to-fill positions in 2022 include:
Cybersecurity
Data science/analytics
AI and machine learning
Application development
Software engineering
Additionally, the A.Team and MassChallenge's 2022 Tech Work Report found that "39% of employers cited product and engineering roles as the most challenging positions to fill."
We will continue to see these roles present fill difficulties in 2023 and beyond as the outlook for technological development will require specialized skill sets. In addition to the above, other jobs that will be hard-to-fill include:
Web developers with Web3 experience
Blockchain specialists
Tech-support positions like Project Managers, Customer Support, Technical Trainers
At SSi People, most job requisitions require new hires to have a role in collaborating cross-departmentally, with the ability to translate technical outcomes that contribute to meeting organizational goals. The tech professionals are no longer siloed and haven't been for some time, but are integral to most companies' profitability and growth.
What are Candidates Saying?
It's mixed messages due to layoff fears, but overall, tech professionals are keeping their eyes and options open.
A Gartner survey of 18,000 employees at the end of 2021 found that "globally, only 29 percent of IT workers have high intent to stay with their current employer." While that was in the throes of the Great Resignation that rocked 2021 and reverberated throughout 2022, a startling survey this past summer noted that only 9% of tech workers were confident in their job security amidst a bevy of layoffs and downsizing notices.
Could that be a signal of the tide turning away from a candidate's market?
Not necessarily. While the quit rate overall (not just for tech) has slowed, there is still evidence that IT professionals and workers overall will still look for greener pastures.
According to ManageEngine's 2022 IT at Work survey, 3 out of 5 IT leaders are considering the job hunt.
For Millennial and GenZ workers, 74% are planning to quit their jobs in 2023 due to a lack of skills-building opportunities. While the survey did not specify tech vs. non-tech workers, a staggering number of workers convey that 70% feel unprepared for the future of work.
A summer candidate sentiment survey noted that workers were open to new jobs, increasing to 3.5 out of 5 employees would consider a new role, while citing management, before pay, as the top reason for job-hunting.
However, a Paychex survey noted, "65% of workers said that failing to specify a job's salary range was the biggest no-no for them."
Candidates in general also cite workplace culture as important, but a recent article noted that simply saying "we are a great place to work" needs to be supported by what is offered: benefits, balance, PTO, etc.
At SSi People, our redeployment rates increased from 25% to 30% in 2022, indicating that our consultants are very marketable and prepared to make career moves to achieve personal and monetary goals.
Where are jobs located? More importantly, is remote work on the decline?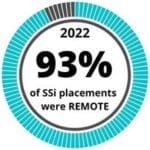 SSi People data notes that in 2022, 93% of placements were remote.
Data suggests that remote work job postings are decreasing. CompTIA's monthly jobs report suggests a "decrease in Remote/WFH postings by 14,000 from August to September for key technology professional positions such as software developer and IT support specialist." Coupled with "67% of managers wanting employees back in the office," it would seem work flexibility for where workers sit might be waning.
Yet, the total number of remote-work jobs remains significant amidst the sentiment of tech professionals. A study showed that nearly half of tech workers work remotely. That echoes a global outlook from the latest edition of Stack Overflow's annual Developer Salary from almost 59,000 respondents, where 42 percent were already fully remote, 42 percent were hybrid, and 14 percent were fully in-office.
With candidates across industries, remote work fell just below pay and career opportunities as reasons to find another job, according to McKinsey. What does this mean? If the need for tech talent remains high amidst the short supply, companies will need to rethink their RTO policy.
Remote or not, the concentration of tech placements at SSi People closely reflects the trending locations reported by leading industry sources.
SSi People: Of the tech placements this year alone, the top five locations by state were:
Texas
New Jersey
California
Massachusetts
New York
According to CompTIA, the top locations for tech jobs, gauged by openings, are:
California
Texas
New York
Virginia
Florida
Illinois, North Carolina, Georgia, Colorado, and New Jersey round out the top ten.
In summary, what's on the horizon for tech jobs in 2023?
IT continues to drive most businesses, and tech professionals will lead the charge. When attracting talent, we can expect the discerning candidate to still weigh their options, despite any talk of "tech slowdowns" – candidates will still have plenty of options and will want to know what you're offering upfront. To that point, job descriptions must be clear on roles and responsibilities and not open-ended or up for interpretation.
In 2021, SSi People expounded in a 2-part series about the impact of tech in 2022. Data and "connectables" (meaning our tech devices work together to deliver efficiencies and services for our lifestyles) continue to be a focus for innovation. And the continuance of emerging technologies like Web3, advanced AI, and IoT underscores the need for tech professionals with advanced skills who can also solve for business adoption and adaption cross-functionally in an organization.
Tech workers will continue to have remote work opportunities, although we may see more of a hybrid balance come to play. And the landscape for job locations is vast because of the remote opportunities as well, as we see traditional tech hubs expand to incorporate more mid-market metros in the industry, with places like Huntsville, AL, Raleigh, NC, and Provo, UT growing in tech job availability.
Those already hard-to-fill roles will be in even greater demand if you can imagine. Staffing firms specializing in tech and engineering roles will be seeing an uptick in need for data engineers, AI and Machine learning specialists, and applications developers with Web3 development skills.
The advancement of technology will also create opportunities for fringe tech roles as well, ones that may not require functional tech skills but more tech acumen to support innovation – think project and product managers, content creators, analysts, and of course, Tech Recruiters.